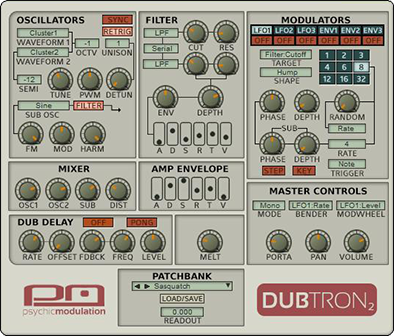 Dubtron2 is the successor to the original Dubtron bass synth, taking it's modulation-based concept into new territory, exploring quirky synth basses, rhythmic soundscapes, chilly dub techno and experimental ambient textures. Dubtron2 uses beat-driven modulation and sub-rhythms along with randomization to bring about interesting rhythmic sounds and atmospheres. This along with it's serial filter system, a feedback-looping dub delay and a "Phonec-style" Melt feature makes Dubtron2 a extremely versatile instrument with a unique approach to sonic exploration. Here is a brief overview of it's key features:
Dual oscillators with Unison and Pulse Width
Sub oscillator with FM capabilities
Dual Filter system with serial routing
Soft clipping / Distortion
A unique Melt feature that adds instant character to any patch
3 Polyphonic LFOs with BPM 'speed dials' and randomization
Sub LFOs for creating parallel rhythm offsets
3 assignable Modulation Envelopes
Dub Delay Unit with feedback looping
Multiple targets for modweheel and pitchbender
Universal Value Display
Double Click Parameter Reset
128 presets
Dubtron v2.0
VST Synthesizer
Windows 32-bit
$39
+ VAT in EU
Looking for bundles? Visit the Shop.

(The demo version has the limitation of occasional sound dropouts.)