Phonec Updated to v2.3
Phonec has recieved a major update to v2.3. A new Melt System, an Acid Filter, Resonance Saturation and Sub-Presets are just a few features in this update. Check out the video below for a quick preview. More info...
EchoMelt Multi-FX Unit (Now Avaiable!)
EchoMelt is an Audio Melting Multi-FX unit designed for adding character, texture and warmth to your sounds. EchoMelt can create warbling "VHS" effects, swirling choruses, dubbed-out space delays, lo-fi saturated distortion and everything in-between. More info...
Synth Bass for Phonec now avaiable
Synth Bass is a patchbank of 128 newly designed bass patches for Phonec 2. Covering a wide sonic range, these patches are suitable for various genres ranging from Synthwave to Dub Techno. Each patch has been meticulously crafted, paying careful attention to detail and making the most out of Phonec's features in order to get a completely unique sound. The LFOs, Modulation envelopes and aftertouch settings are all ready to switch on for instant, well thought out effects. Most notable of these patches, is the modwheel settings. The Modwheel is linked to the aftertouch targets, so simply moving the modwheel makes for a very creative and expressive performance tool, giving you the ability to completely transform the sound of each patch. More info...
Phonec updated to v2.2!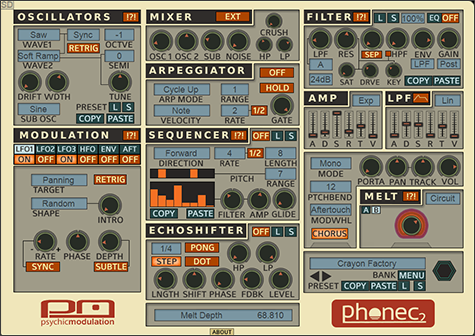 Phonec v2.2 has several new features including an onboard Chorus effect that can be integrated into the Melt function, a 3-band fully Parametric EQ, Pan tracking for widening arps and pads, new timings for th Arppegiator and Sequencer, new waveforms and modulation possibilities and several improvments.
Phonec2 is the successor to the original Phonec synthesizer, which was inspired by the mystique of video logos you hear at the beginning of worn out VHS tapes. This time around it's available for both Mac and PC as a 32/64 bit VST and Audio Units plugin. Phonec2 has all the great features of the original plus many new features and several improvements.
Phonec2 is capable of producing a wide range of sounds such as vintage analogue tones, lo-fi synthscapes, ethereal pads, minimal techno sequences, retro synthwave leads and hard hitting synth basses. Phonec2 has an intuitive GUI that attempts to strike a balance between form and function, making it a very usable tool that can be a real inspiration to work with. Apart from it's unique character and excellent work flow, Phonec2 has several interesting features that set it apart from the crowd. More info...
Mailing List
Sign up to our mailing list to recieve the latest news and updates from Psychic Modulation.
Featured Track
Latest News
Phonec updated to v2.3
New Melt System with HFO integration
New Filter variations + a new Acid Filter
Filter Saturation Driver
Highpass Filter Tracking
Randomizers are now MIDI assignable
Oscillator Harmonics Reduction
Dotted note echoes
EchoShifter timing has been improved
All LFOs now start with the same phase on host play.
Arp Hold can also function as note hold
Sub-Presets for key sections
Improved Patch Management
Load/Save MIDI cc maps
Note Memory Mode can be turned off
Lots of bug fixes and improvements
EchoMelt updated to v2.0
Fixes VST ID conflict
Added Randomization for each effect
Added Dual/Single modes for Echo
Added Echo Input Level
Chorus Melt speed can now be controlled via Melt Speed 1
Added option to load/save MIDI cc maps
Added MIDI channel to 'about' panel