Commercial Products
VST and AU plugins for MAC and Windows 32 and 64 bit hosts.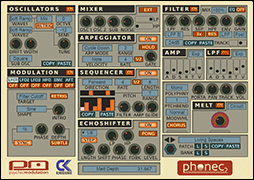 Phonec 2
Phonec 2 is the successor to the original Phonec synthesizer, which was inspired by the mystique of video logos you hear at the beginning of worn out VHS tapes. This time around it's available for both Mac and PC as a 32/64 bit VST and Audio Units plugin. Phonec 2 has all the great features of the original plus many new features and several improvments. Phonec 2 is capable of producing a wide range of sounds such as vintage analogue tones, lo-fi synthscapes, ethereal pads, minimal techno sequences, retro synthwave leads and hard hitting synth basses. Phonec2 has an intuitive GUI that attempts to strike a balance between form and function, making it a very usable tool that can be a real inspiration to work with. Apart from it's unique character and excellent work flow, Phonec 2 has several interesting features that set it apart from the crowd.
Older Plugins
The following plugins are 32-bit Windows only format.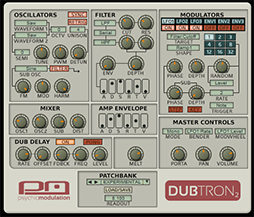 Dubtron2
Dubtron2 is the successor to the original Dubtron bass synth, taking it's modulation-based concept into new territory, exploring quirky analogue basses, modern rhythmic soundscapes, chilly dub techno and experimental ambient textures. Dubtron2 uses beat-driven modulation and sub-rhythms along with randomization to bring about interesting rhythmic sounds and atmospheres. This along with it's serial filter system, a feedback-looping dub delay and a "Phonec-style" Melt feature makes Dubtron2 a extremely versatile instrument with a unique approach to sonic exploration.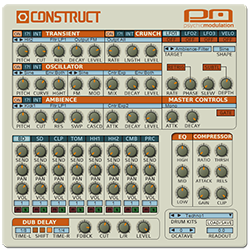 Construct
Construct is a drum machine with a sound design workflow based on layering, using both drum synthesis as well as sampled sounds for creating the various elements that build a drum. Featuring dynamic effects, dub delay, multiple lfos and velocity options, Construct is a compact drum machine that offers a wide range of possibilities.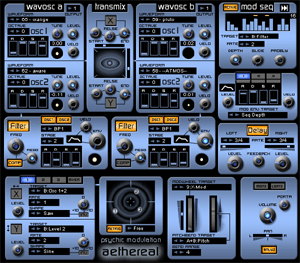 Aethereal
Aethereal is an ambient vector synth designed for the creation of evolving atmospheres, soundscapes and ambient textures. Aethereal comes equipt with over 100 built in sampled sounds such as synth tones, atmospheres, vocal pads and sound FX. The sounds can be loaded into four wave oscillators which are combined into a weaving mix using a sophisticated 4-Way TransMixer, functioning manually, with auto-modulation or in a set transition from one sound to the next.
Freeware VST Plugins
The following are freeware plugins that are no longer supported. Click on each image to download. They are provided here for archival purposes and are free to download and use in your own music. They are all several years old and may be prone to issues on current systems. Use at your own risk!

Cubix
Groove Machine
Cubix is a drumsynth/sampleplayer with an onboard arpeggiated bassline synth. Each drum section has its own dual X-Fade sequencer section for beat mixing, as well as an Auto-Mix function. Designed with live operation in mind, Cubix can be used for making complex beats on the fly that can be randomized, mixed, matched and manipulated in a number of ways.

Metatron
Gated Arp Synth
Metatron is a 2 oscillator analog synthesizer with an arpeggiator that works alongside a gated modulation sequencer for creating unique rhythmic patterns and sounds. The oscillator section uses waveforms that double up to create a phasing effect similar to pulse width, but for each waveform. This along with a powerful unison detune section and ring modulator give Metatron a rich, fat sound. With the addition of versatile graphical envelopes, LFOs and other modulation options, Metatron becomes an instrument that can create complex sounds, but at the same time keeps it simple without trying to do everything, making it a perfect 'go to' synth for one-finger basslines, rhythmic techno leads, spacey gated pads and other creative arpeggiated sequences.

Photon
Experimental Warp Synth
Photon is a hybrid synth with an with an experimental 'warp' engine for creating evolving rhythmic sequences, random arpeggios and classic Sample&Hold style arcade weirdness.

Subconscious
Hybrid Sequencer Synth
Subconscious is a dual arpeggiation sequence synth with oscillator crossfading, feedback modulation, and independent filter and amp envelopes for both oscillator sections. Subconscious has two different onboard sequencers, a gate sequencer and a modulation sequencer, which can be used for stepped sequences, gated pads and modulation of the pitch and filters.

Minimal
Beat Box
Minimal is a mini groovebox-style drum machine with an onboard bass synth. A quick and easy way to make some beats on the fly.

Optik
Drum Synth
Optik is an basic, yet interesting drumsynth with it's own unique sound. It's got 7 drums, multiple outputs and an onboard mixer. Each drum panel can be opened to reveal additional controls for further tweaking.

Wavtransit
Loop Sampler
Wavtransit is a VSTi loop sampler designed for manipulating longer samples and recordings to be looped and mangled with the loop vector and various sequence modulators.